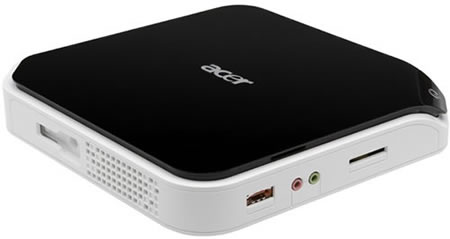 Acer has just unveiled the first Ion-based system in the form of a very small and purportedly affordable desktop. Dubbed AspireRevo, the new machine couples a 1.6GHz Intel Atom 230 processor with the GeForce 9400 integrated graphics chipset from Nvidia, to allegedly deliver 10x the graphics and video performance of the 945G-series chipset and GMA 950 graphics that Intel typically pairs with its low-power processor.
The built-in Ion graphics means that this system can handle 1080p high definition content, DirectX 10 graphics and offers decent gaming performance – it can even run slightly demanding games like Call of Duty 4 albeit not with full eye candy on. Other specs include up to 4GB of RAM and up to 250GB of hard drive space, a 4-in-1 card reader, HDMI / VGA outputs and 7.1 surround sound audio. Acer is still mum regarding pricing and availability, though earlier rumors suggested a $300 base price and a shipping date in the late Q2 time frame.
Acer unveils first Ion-based nettop – TechSpot News.
Thanks for reading!
Enjoy.
Support the site — Share this!